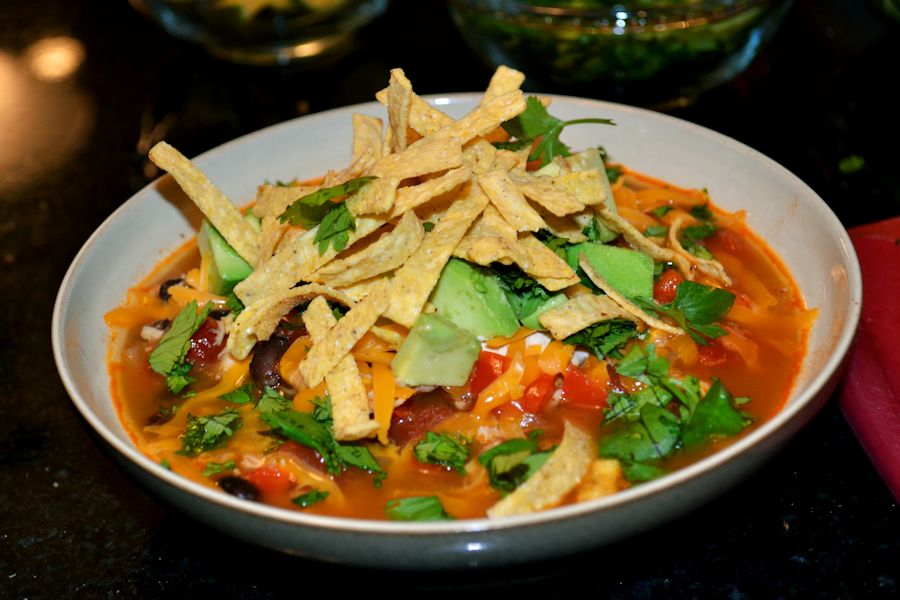 One of my favorite things is cooking, and I've decided to challenge myself to start blogging about all the things I love. I'm going to start sharing some of my favorite recipes,  and even try some new ones.  This recipe is an easy one that always passes the test.  Everyone in my family loves this soup and I usually make this a couple times a month.  And because it's a lighter soup it works for summer.  It's a quick soup to make, but tastes like it took hours.
The complete recipe is at the bottom of the post.
Right before you are ready to serve, chop the avocado.  The easiest way to cut an avocado is to slice lengthwise until you hit the pit and then rotate the knife around the avocado pit. Twist the two sides apart and use a knife to slice into the pit and then pull it away from the avocado.  Make a crosshatch pattern on each half of the avocado (just like the picture above to the right).  Squeeze lime juice all over the avocado and season with a pinch of salt- this helps prevent the avocado from browning and it adds a lot of flavor. Scoop out the pieces with a large spoon.
Slice up the rest of the lime and serve it with the rest of the toppings.
To serve, put a dollop of sour cream in the middle of the bowl of soup and sprinkle with cheese.  Spoon some avocado on and add tortilla strips.  Top with cilantro and a squeeze of lime.
Soup
2 large onions, chopped
2 red peppers, chopped
2 garlic cloves, minced
2 Tbsp. olive oil
1 Tbsp. chili powder
1 Tbsp. cumin
1 1/2 tsp. salt
1 1/2 tsp. black pepper
15 oz. can black beans
15 oz can petite diced tomatoes
8 cups chicken stock
1 rotisserie chicken
2 Tbsp. cornmeal
Toppings
2 chipotle peppers in adobo sauce, chopped
1 cup sour cream
8 oz. sharp cheddar cheese, shredded
1/2 cup cilantro, chopped
1 lime, sliced
2 avocado, chopped
1/4 tsp. salt
1  3.5 oz bag of tortilla strips
Preparation Instructions
Chop the onions and red peppers.
Place onions and red peppers in large pot with the olive oil, garlic, cumin, chili powder, salt and pepper.
Saute over medium high heat until vegetables are soft.
Drain the beans and add them along with the tomatoes (juice and all) into the pot.
Pour chicken stock into pot.
Pull the rotisserie chicken with 2 forks on a large cutting board and scoop into pot.
Let simmer for at least 30 minutes.  Season with salt and pepper to taste.
Chop chipotle peppers and mix with sour cream.  Place in refrigerator until ready to serve.
Shred cheddar cheese into bowl
Chop cilantro leaves and place into small bowl.
 Halve the avocado and remove pit.  Crosshatch with a sharp knife and sprinkle with lime juice and salt. Scoop out into a small bowl.
To serve, ladle soup into bowl.  Top with chipotle sour cream, cheese, avacodo, tortilla strips, cilantro and a squeeze of lime.